It is not fall yet, it is not fall yet, it is NOT fall yet. Come on, please say it with me? It is still August and I don't want to talk of chill in the air or socks or anything even remotely related to fall. I like fall well enough but it's not my favorite season…probably because it is the precursor to winter. So while I keep fall at bay, I will drink this perfect, summer, fresh fruit sangria. Bursting with the flavors of fresh peaches and cherries, it is light and refreshing and pretty and everything a SUMMER cocktail should be.
While we are not renown outside of our own state, Colorado has some great peach growing territory on the other side of the Rocky Mountains. Have I been there? Nope. Do I want to go to the Western Slope? In the worst way. It's where the peach festival is and the Colorado Wine Festival and it calls to me but I'm a chicken. I just hate mountain driving…or I should say mountain drivers. By the time I reach a destination my hands have been so clenched on that wheel that they take a bit to relax from a fist shape.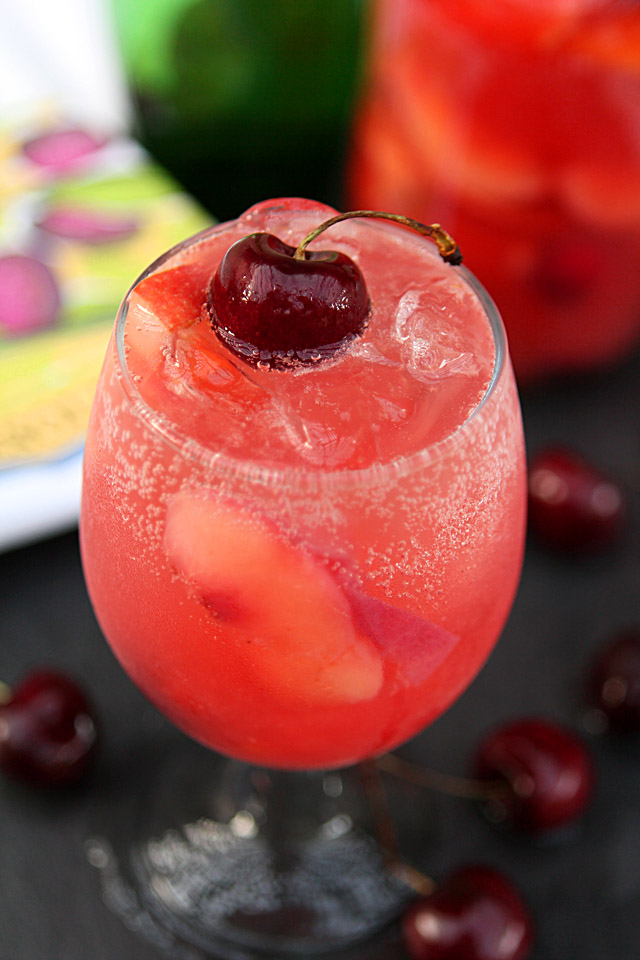 But I have a plan…why didn't someone tell me I could take Amtrack? I am SO getting there this time next summer. In the meantime, join me in celebrating summer, even if it is starting to wane. I like to make a blend of fruit to add to wine and for this go round I added some sparkling water at the end for a touch of bubbly. It was perfect. Or is…I still have a pitcher in the fridge…when can you get here?
That being said, if I haven't convinced you to stick with summer a bit longer, then head over to my friend Jessica's site; she's got an Apple Cider Sangria I'm dying to try…in a few months!
Cheers!

Print
White Peach and Cherry Sangria
Prep Time 20 min
Total Time 20 mins
Ingredients
1 bottle white wine
2 ounces triple sec
1/2 cup frozen margarita mix (I used a Bacardi mix)
Juice from 1 large lemon
Peach and orange puree (peel 3 peaches, remove pit and puree in a blender with peeled segments from 1/2 an orange)
2-4 ounces simple syrup (equal parts sugar and water brought to a boil for 2 minutes in a small saucepan) and cooled (leftover syrup can be stored in a tightly sealed container in the refrigerator for one month)
3 Fresh peaches, peeled, pitted and sliced
1/2 large orange; cut in segments
2 apples, cored and sliced
25 cherries, pitted
Cherries and/or mint for garnish
Directions
Place all ingredients except sparkling water in a pitcher and stir to mix. Refrigerate at least 8 hours or up to 48 hours. Fill glasses with ice and then fill 3/4 full with peach mixture.
Top off with cold sparkling soda.
Garnish with a cherry.