I made Tahini – A Toasted Sesame Paste to use in hummus, but am finding I love it in dressings and sauces too. Toasting was key, it elevates the flavor simply but wonderfully.
I promised I wouldn't keep you waiting…here is phase three of the ingredients for a homemade Artichoke and Roasted Garlic Hummus. And while I have enjoyed making some of the key ingredients from scratch, don't let my adventure keep you from making it easier for you if so inclined. I can tell you that it's easy and it is, but I also know that sometimes even easier would be to open a jar of Tahini and a can of chickpeas and be done with it. Still, not to twist your leg or anything, this homemade version of Tahini that starts with toasting the seeds is absolutely bombalicious.
When I read the ingredients on the jars of Tahini I found at Sprouts, they all included sesame seeds and olive oil; I couldn't help but think…wait, I can do that! So I did. The beauty of making it from scratch is that I could toast the seeds. I like sesame seeds OK but I LOVE them toasted so it stands to reason that the paste made from them would be elevated too, right?
And I was right. The second time I tried at least. The first time? They did not burn but were just a warmer brown and very clearly toasted and I am so glad I took a quick taste before adding that paste to other ingredients. It did not taste burnt because it was not, but the taste was bitter. So listen carefully please? Just a couple of minutes is all that is necessary; just enough to turn more off-white than white; once you see a couple start to get brown; remove them from the fire and dump them on a plate or a cookie sheet so they don't cook anymore at all.
See those seeds in the pan? They are 'just barely' darker than when they came out of their packaging from the market. If you walk away and leave them and they turn actual brown? See if Mikey will eat them but do not use them in tahini, OK?
Tahini sounds so exotic but it could not be easier. It is simply the toasted seeds blended in a blender or food processor until the seeds are broken down and the oil is released and they emulsify into a paste. I added a bit of olive oil to make sure it's smooth but just a bare minimum amount. That's it, really. So go on, buy a container of it to use or really, please don't, making it yourself is just so easy.
Now that we've made it through the first three steps of making homemade hummus, namely roasting the garlic, making the chickpeas in an Instant Pot and today preparing the Tahini, next up is the end result of this challenge, the real deal, this Artichoke and Roasted Garlic Hummus. Isn't she lovely?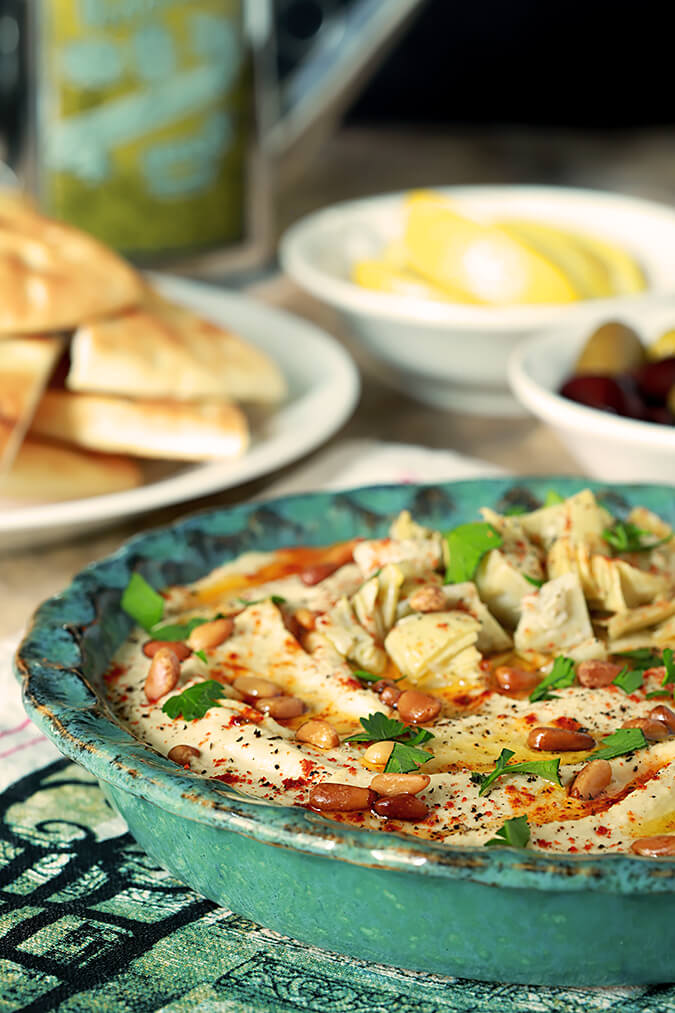 I'll post the final wrap up on Tuesday for this absolutely amazing, delicious, to die for, yummy Artichoke and Roasted Garlic Hummus. If you're following along and want to make it soon; you'll need to have some artichokes on hand (canned or packed in oil and rinsed), fresh lemons, pine nuts, and parsley. Yes, pine nuts are pricey so a couple of suggestions. I think they can be found at some bulk bins so you can just buy a small amount but in lieu of that; try toasting some chopped walnuts, they are most often my go to when I'm substituting for pine nuts.
Here's the finished lineup for everything that came together in the Artichoke and Roasted Garlic Hummus. Mixing up some ingredients and changing flavors is so easy…watch out for the Sun-dried and Roasted Garlic version I made showing up soon!
PIN 'Tahini – A Toasted Sesame Paste'