Another great dish for our Susan G. Komen Fundraiser. These were prepared by Madeline Branda with a recipe from Whole Foods. Just the perfect blend of creamy dill flavored cheese and salmon; the smoked salmon is a must
Print
Smoked Salmon Crostini
Prep Time 10 min
Cook Time 10 min
Total Time 20 mins
Ingredients
24 thin rounds of bread, cut on the diagonal from a baguette
Extra virgin olive oil
8 ounces cream cheese, softened
1 1/2 tablespoon finely chopped dill
2 tablespoons very finely chopped red onion
1 teaspoon fresh ground black pepper
8 ounces pre-sliced smoked salmon
2 to 3 tablespoons capers
Fresh dill sprigs for garnish
Lemon wedges to garnish platter
Directions
Preheat oven to 350°F.
Brush bread on one side with olive oil and place oil side up, on a baking sheet. Bake 8 to 10 minutes until just crisp and slightly golden. Do not over toast. Set aside to cool.
In a small bowl, blend together cream cheese, dill, onion and black pepper. Place in a pastry bag with a large tip or use a small spoon to place a dollop on the center of each toast. Cut salmon slices in half or thirds and fold a bite-sized slice over each toast. Garnish with capers and fresh dill sprigs. Place on a large platter with lemon wedges.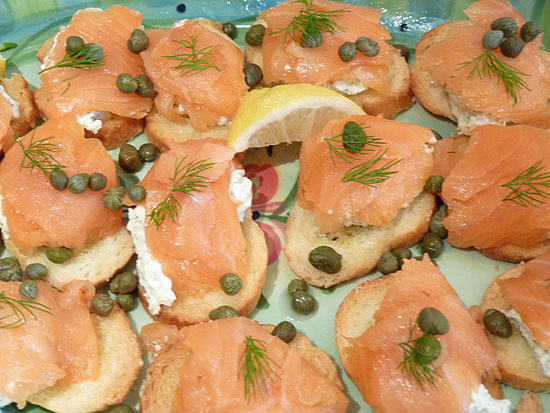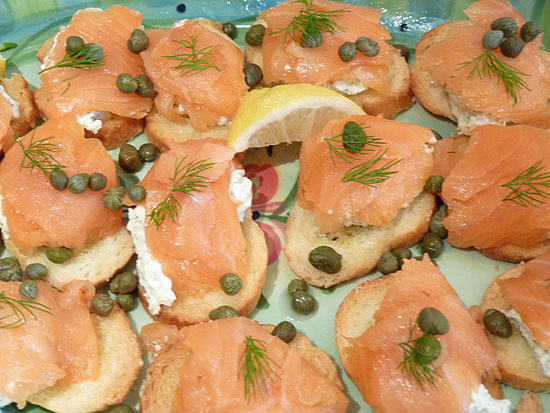 Serving these appetizers with a few lemon wedges on the side is the perfect garnish. Encourage your guests to squeeze them over the top of the salmon as a tart complement to the cream cheese underneath.
Served with Estancia Pinot Noir
Recipe courtesy of Whole Foods