I was contacted by the Hyatt Regency Tamaya Resort & Spa, located near Santa Fe, N.M. wanting to know if I would be interested in featuring their Tamaya Red Chile Martini for Happy Hour Friday. Though I will typically feature libations I either try locally or concoct myself, I was intrigued. I've been to Santa Fe and just loved it and since moving to Denver almost 25 years ago I have found my taste for hot and spicy foods to have grown dramatically, so I was very interested in a cocktail with a bit of spice.
The Hyatt Regency Tamaya Resort & Spa
I so clearly remember my visit to Santa Fe. Though only 385 miles south of Denver, if you've never been it is like entering another world. Buildings  made from clay and wood with accents of turquoise dot the landscape. Native American touches are everywhere and the scenery is just beautiful; much more of a real desert landscape then we have in the plains of Colorado. I went with my girlfriend Carolyn for the weekend and her mother decided she wanted to come along.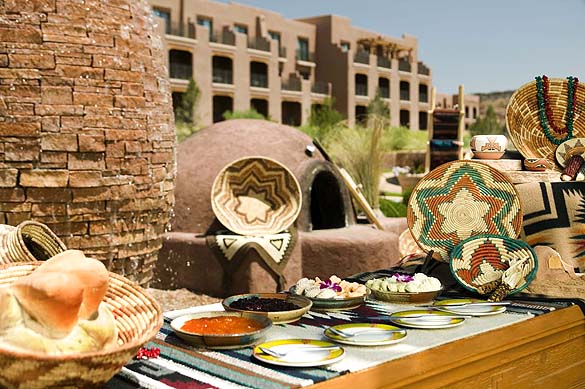 Bread and Butters for the Holiday
Who could have expected that two grown women would once again be relegated to errant children? After more than a solid day of being instructed when I was approaching every intersection and stop sign, told how fast I should be driving and reminded to keep both hands on the wheel, we had a moment in the parking lot of a restaurant. A moment when I was given instructions on how to back up my car. I did not lose my temper but I did mention that I had been driving for over 30 years and that I really thought I could handle it without her input. She was not happy with me and proceeded to sulk all the remaining time we spent there. And can you believe…refused to speak to me for the rest of our trip. I should have said something sooner!
Bread making at the Hyatt Regency Tamaya Resort
With greater peace came the opportunity to better enjoy the magnitude of our surroundings. Both natural and manmade artifacts made a story I had only read in history books real and meaningful. And the food? Oh my, the food…maybe that was when this Midwestern girl finally made the move towards really enjoying Mexican food, it was nothing like the experiences I had only had at Chili's or a local Mexican restaurant in Denver.
I still love fajitas but no longer remove jalapeno peppers when ordering them out…now I would be more inclined to increase the heat. So this fiery cocktail was perfect. Both the liquid components and the rim include a touch of pepper and no, though I hate to disappoint, I did not eat that red chile. I'm not quite there yet.
The Hyatt Regency Tamaya Resort & Spa has special events planned for a Pueblo-Style Thanksgiving. This would be a great destination for a unique holiday. I threaten each year to run away and be done with all of the work. Maybe this year? Special thanks to them for providing me with photos of the resort.
Prep Time 15 min
Total Time 15 mins
Ingredients
Cayenne Salt for the Rim (blend 3 Tbsp of margarita or kosher salt with Cayenne to taste; I added 1/2 tsp)
5 oz of Tequila
2 oz of fresh Mango
Chili Powder
Juice of one lime
Directions
Rim glass with some juice from lime and dip in the cayenne salt
Chill glass in freezer
Make mango puree; blend fresh mango with chili powder to taste; I added three shakes
Put tequila, mango puree and lime juice into shaker; shake and strain into chilled martini glass
Garnish with small red chile