This Old Fashioned Green Bean Casserole from Scratch with homemade fried 'onion strings' is amazing. Fresh ingredients make ALL the difference!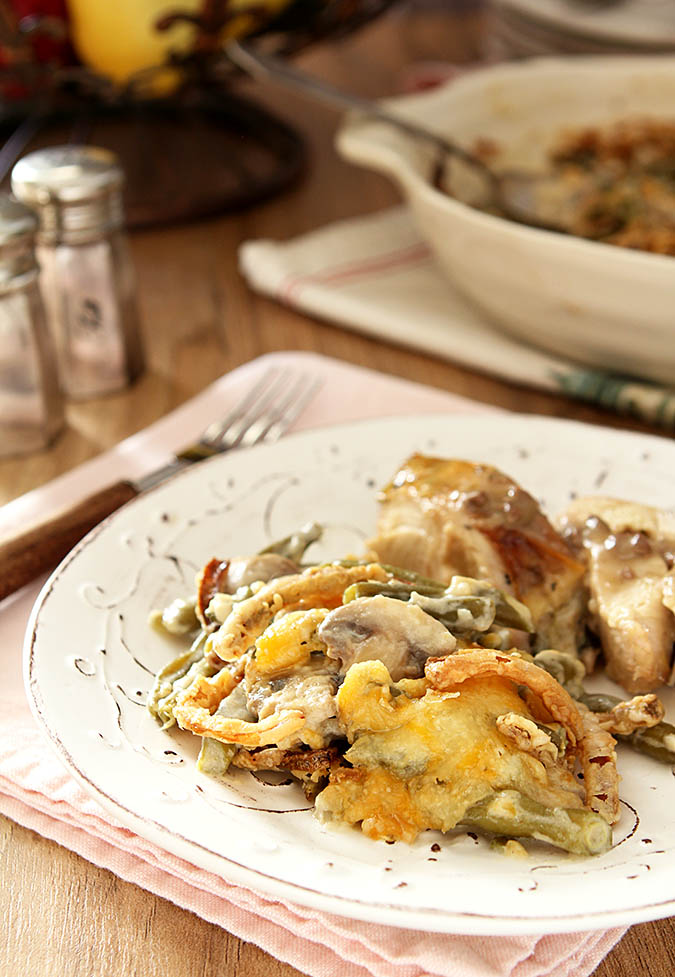 Who hasn't associated green bean and mushroom casserole with Thanksgiving dinner? Anyone? Canned green beans, canned mushroom soup and canned onion rings, right? And we loved it! Well, if you love that now or have ever loved it or even now hate it, this dish might be for you.
My daughter and I first made this casserole several years ago and I've never looked back. I published it back then too but it was time for a refresh…new photos and new friends; all combine to say new post! Fresh ingredients and homemade fried onion strings and this is one amazing casserole.
You might think you like that canned casserole but try this and I promise, you will never look back again either (you might even wonder how you could have EVER liked that canned, hot mess old fashioned recipe).
My daughter Emily actually made this dish that first year and as we had decided not to invite a large crowd, we kept Thanksgiving relatively simple with a turkey breast, cranberry sauce and this fabulous dish for our meal. It's really just a flavorful white sauce that is combined with mushrooms, green beans and white wine and then covered with a bit of cheese and homemade onion rings before being baked.
Em did find the perfect recipe for the onion ring topping when she happened upon a post from The Pioneer Women; these thin little strings of fried onion are as I'm sure some would say, 'Like Crack.' Addictive.
Ree salivates over these onion strings…and rightfully so. Sort of a miracle of ingredients in that it's nothing special really. Onions, buttermilk, salt, pepper, flour and cayenne. Still, something magical happens in that distance from cutting board through deep fryer to their final resting place on paper towels to drain.
I know both Emily and I were noshing on those pups each time we walked by that plate; we had to move it to make sure we had some for the actual casserole! So good! Seriously…make them for this casserole or make them just to eat as a snack…but trust me; MAKE THEM (I now make enough for both noshing and the casserole…and good thing too!).
The only element that was not 'normal' in my book was the addition of some shredded cheddar cheese on top of the casserole as it baked. Everyone loved it but I think it would be just as fantastic without that extra ingredient so I'm calling it 'optional.' We had leftovers and I think an auction on who got to take it home (just kidding but close). Try this recipe the next time you're asked to bring a side dish or someone expects the requisite green bean and mushroom casserole for Thanksgiving. You will be loved forever.
This weeks #FallFest with The Food Network features Thanksgiving dishes…no big surprise there right? Take a peek after the recipe for some great ideas for your Turkey Day Feast!
PIN 'Old Fashioned Green Bean Casserole from Scratch'