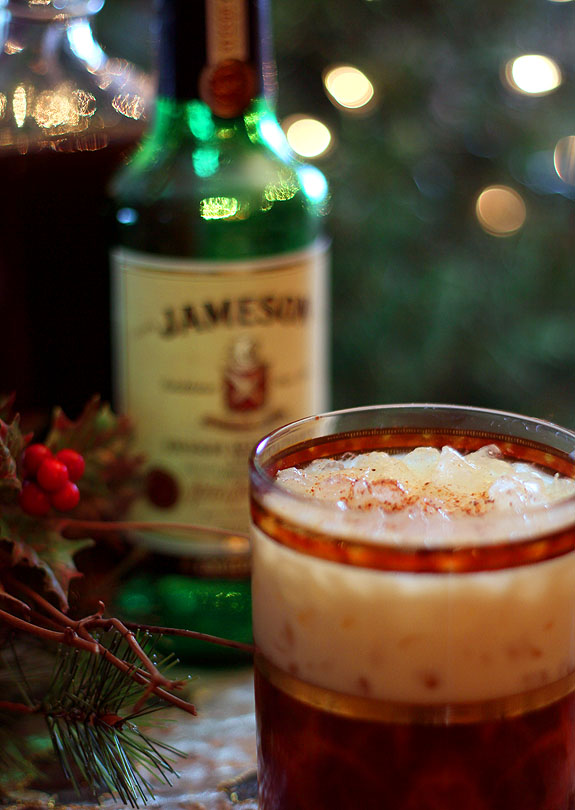 I've long had a holiday love affair with the decadence of Kahlua and Cream; it was the first 'adult' drink I was served in the safety of my parents home on Christmas Eve. I didn't have the typical adolescent tendency to want to get drunk before I was old enough to legally imbibe but I will admit I loved the taste of that concoction.
Moving beyond a Shirley Temple was exciting and the richness of Kahlua and Cream was a pretty easy cocktail to transition to. It was also perfect for the night before Christmas when family were together and there was always such a spirit of celebration. I've loved it ever since. The path to making this Kahlua Eggnog and Jameson Irish Whiskey Cocktail did not take much effort at all.
Over the years, my favorite cocktail has gone through several iterations, mostly from happenstance. I seriously doubt that moving from half and half to eggnog came about because of a studied journey into developing something unique. More likely, I'm imagining it was something simplistic like finding myself without half and half but locating eggnog in the fridge; very much my personal methodology. I will substitute something in a heartbeat if it means I can avoid a trip to the grocery store! No matter the segue; Kahlua with eggnog soon became my holiday cocktail tradition for Christmas Eve and that tradition served me well for many, many years.
My most recent iteration was another moment of having to make do. Some friends had dropped by for a cocktail on Christmas Eve a couple of years ago and they knew to expect a Kahlua and Eggnog with some of my favorite cookies. But in one of those moments of panic, as I went to make 4 drinks, I realized I had erred grievously; my Kahlua was close to gone and I was lucky to wring a couple of ounces out of that bottle.
My zeal for substituting forever at the ready…I glanced through what I had available. Here was my thought process. I love Irish Coffee which is coffee with Irish Whiskey and whipped cream. I surmised that Kahlua, Irish Whiskey and eggnog would be in the same vein so went about concocting a new version of my stalwart holiday cocktail.
The bit of Irish in me was sure OK with it and the response of my guests only solidified that until something necessary stipulates another revision; this is a winner that I hope won't change for several years!
Print
Kahlua, Eggnog and Jameson Irish Whiskey Cocktail Pasteurized Homemade Eggnog
Prep Time 10 min
Cook Time 10 min
Total Time 20 mins
Ingredients
1 oz Coffee Liqueur
1 oz Jameson Irish Whiskey
4 oz eggnog
5 large egg yolks
3/4 cup granulated sugar
3 1/2 cups milk, separated
1-2 cups heavy cream, separated
Nutmeg, grated
Directions
Fill cocktail glasses with crushed ice.
Put the Kahlua, whiskey and eggnog into a pitcher and mix thoroughly.
Pour over ice and top with freshly grated nutmeg.
Prepare an ice-water bath. Beat the egg yolks and sugar together with an electric mixer on medium-high speed until the mixture is very thick and pale yellow, about 3 to 5 minutes. Transfer the mixture to a heavy 3-quart saucepan. Slowly whisk in 2 cups of the milk until well incorporated.
Cook the mixture over low heat, stirring constantly, until it is thick enough to coat the back of a wooden spoon. Remove from the heat and immediately stir in 1 cup of the heavy cream. Pour the mixture through a fine-mesh sieve into a medium-size bowl, and set the bowl in the ice bath until the mixture is chilled, stirring occasionally.
Stir in the remaining 1 1/2 cups milk and additional heavy cream if desired, to taste. Transfer the eggnog to a pitcher and chill until ready to serve.
Serve with freshly grated nutmeg.