If you love making your own barbecue sauce but are never sure which one to use; try this Jack Daniels Tennessee Honey Barbecue Sauce for Beef, Pork, Chicken and Shrimp; it covers all the bases!!
I can not remember a year when I haven't made all of my holiday gifts for friends (children are another story…they don't want my food; they want stuff!). Although I try to make something new each year there are repeats by request. This Limoncello is one of the most requested and I even get bottles back in hope of refills.
Though not a food item I have legions of fans who love this Wood Butter for cutting boards and wooden utensils as much as I do. Can' t buy a new cutting board? Refresh it! I've got a couple of new favorites I'll be sharing this week…and this sauce has been deemed good enough to be first!
I'm thinking this sauce is going to create the same sensation. A bit of whiskey, some heat too; it's been great on everything I've tried; chicken, beef, pork and shrimp…it's even good straight from the spoon (of course I did!). It was SO bitter cold last week that I just quickly seared some rib-eye on the grill, sliced it and then finished it inside on the stove; it was perfect, seriously.
I used this Jack Daniels Honey Whiskey because I had some but don't limit yourself; use your brand and add a bit more honey for a similar result. The folks making Sriracha Hot Sauce better get their act together because for some of us it's a NECESSARY ingredient but if you don't already have the red rooster or can't find it; here's a list on Wikipedia of other hot sauces you could consider!
Sweet, heat, a bit spicy; there is that booze business too…what can I say but this Jack Daniels Tennessee Honey Barbecue Sauce for Beef, Pork, Chicken and Shrimp is oh SO good! A great gift for a cook or someone who loves to grill or what the heck, make it for yourself!
PIN 'Jack Daniels Tennessee Honey Barbecue Sauce'
Yield: 2 cups
Jack Daniels Tennessee Honey Barbecue Sauce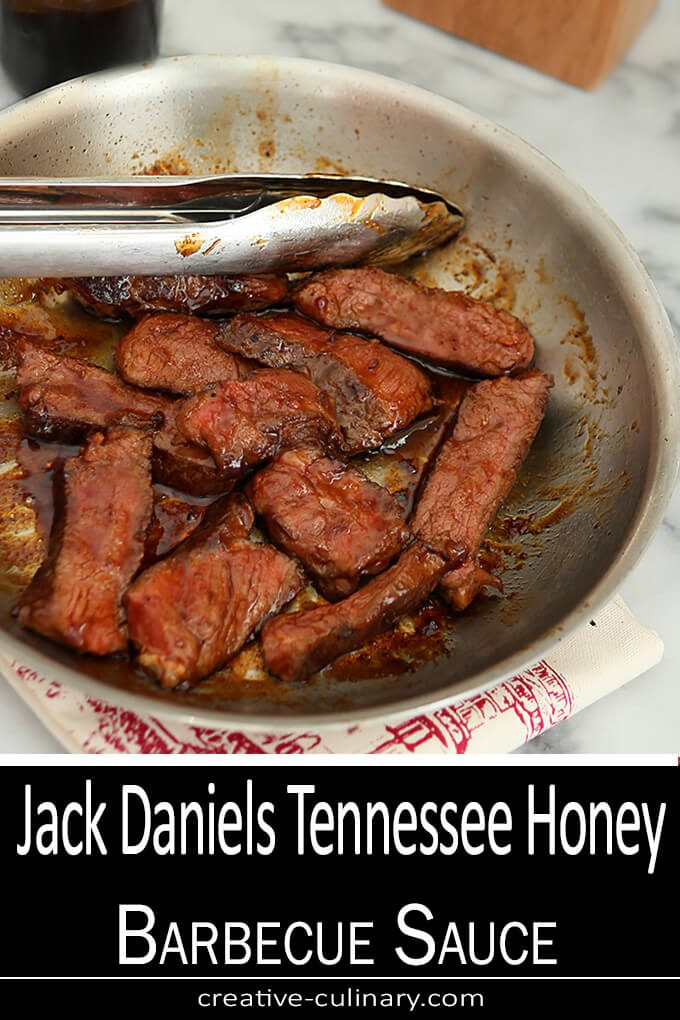 A wonderful blend of sweet and savory with a touch of Jack Daniels, I think this Jack Daniels Honey Whiskey Barbecue Sauce is pretty much the perfect barbecue sauce.
Ingredients
1 cup dark brown sugar
1/2 cup Jack Daniel's Honey Whiskey
1/2 cup soy sauce
1/2 cup ketchup
1/4 cup honey
1 tsp Liquid Smoke
1 Tbsp Sriracha hot sauce (or your favorite)
1 Tbsp apple cider vinegar
2 tsp bacon drippings
1 tsp dried espresso (or instant coffee; use a bit more)
2 tsp garlic powder
1 tsp onion powder
1 tsp paprika
1/2 tsp chipotle powder
a pinch of cayenne pepper
Instructions
Combine all glaze ingredients in a medium size saucepan.
Bring to a boil and then reduce to a simmer and cook until slightly thickened over medium-low heat for about 10 minutes; stirring frequently with a wire whisk.
Nutrition Information
Yield
8
Serving Size
1
Amount Per Serving
Calories

195
Total Fat

1g
Saturated Fat

0g
Trans Fat

0g
Unsaturated Fat

0g
Cholesterol

1mg
Sodium

1108mg
Carbohydrates

38g
Fiber

0g
Sugar

35g
Protein

2g
The nutritional information above is computer-generated and only an estimate. Please do your own research with the products you're using if you have a serious health issue or are following a specific diet.