For out family it's not Christmas without Pecan Butter Balls and an assortment of other wonderful cookies. These shortbread cookies filled with pecans and dusted with powdered sugar are my all time favorite!
I first posted about these Pecan Butter Ball cookies a couple of years ago; back when my dog was my most loyal reader. Since today is National Cookie Day I thought it perfect to offer them again along with other holiday favorites. I love these cookies and so does everyone I make them for so timing was perfect to share them with more than just Abbie!
My first memory of these cookies was at my Grandma and Grandpa Bathe's house and I have had a plate of them every year that I can remember. My memories of making these with her in this charming cottage in South St. Louis are some of my most cherished memories. I continued the tradition of baking them for my family when I was a teenager and have made them with my children and for holiday gifts for friends every year since.
No matter how busy the holiday season, not one has gone by that this cookie isn't at the top of the list. Closing for my house is creeping closer to Christmas Day; I promised my inner child that at the very least these will be made in my new kitchen; it would be a perfect thing. Me, memories of my beloved Grandma and these cookies. The tradition WILL NOT die!
The ingredients are simple but using the best is important and for me that means good vanilla and butter. I admit that at one time in my young life I wasn't so crazy about vanilla. How could that be you ask? Well, you know how good it smells when you open that bottle of real vanilla extract? I decided to sneak a sip when Grandma wasn't looking and let's just say, the magic happens somewhere in between the mixing and the baking because drinking it straight did not exactly give me the rewards I was looking for! Luckily I've moved beyond that experience and always have a supply of vanilla extract, vanilla beans and my new favorite, vanilla paste, on hand (yum, vanilla sugar).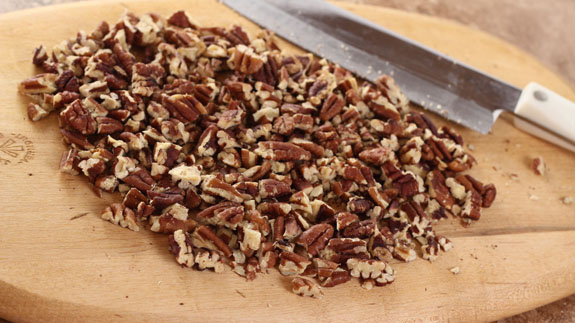 I've recently found that toasting nuts prior to including them in baked goods makes for an even better flavor so this year we've included that spin with this old favorite. It's not a requirement but does punch up the pecan flavor a bit. With a cookie called PECAN Butter Balls that's not bad, right?
Though there are versions I've seen and tasted called Mexican Wedding Cookies and Russian Tea Cakes, all include some slight variation on ingredients. My grandmother was neither Mexican or Russian so it's a great example of how recipe traditions spread all over the world; Pecan Butter Balls are more typical of the name associated with this buttery, nutty cookie from the Scandinavian part of the world and I've seriously had none better than these. Maybe it's my memories that make them my favorite. I will always think of that wonderful sweet woman I was lucky to call my Grandma Lizette!
How about a few other favorites for the holiday season?
Salted Chocolate English Toffee with Almonds – Amazing is the word. This stuff is totally addictive but share anyway!
Toasted Pecan and Caramel Fudge (Penuche) Cookies – Sort of like cookie and candy together in one place and they are a perfect match!

The Best Sugar Cookies – light and crispy and oh so good and no cutting out required!

Spritz Butter Cookies – Almost as important to my Christmas memories as Pecan Butter Balls!

Rice Krispie Treats with Chocolate, Toasted Walnuts and Salted Caramel – Devised to replicate a treat someone sent me, these are such a crowd pleaser and a great gift from the heart.

Heath Bar Shortbread Cookies – I love Heath Bars; adding that flavor to a shortbread cookie? Oh my. Perfect!

Brown Butter and Molasses Chocolate Chip Cookies – The Best Chocolate Chip Cookie I've ever had!
Salted Chocolate Graham Cracker Toffee Recipe – No time for toffee? These are an easy baked alternative that will be devoured.

Merry Christmas Meringue Cookies – Who needs Macarons anyway? Meringue cookies are easier and so festive!


Potato Chip Cookies – Yes, Really. Such an old recipe but fits perfectly in today's trend towards a touch of salty with sweet. These are fantastic!
These are some of my very favorite cookies but I'll be lucky if I get any of them made this year. I'm supposed to close on my new home on 12/17 but sounds like they might push it to 12/20 (turns out it was 12/31!). Well, they promised before Christmas and I'm just hoping for that. Still, Grandma's will be made even if I have to stop Santa on his journey and ask him to help!
Still; with all of these assorted cookies it's still these I have to have. I know they're a tradition for many; maybe it's time to make them yours too? Here's wishing you and yours the merriest of holidays!
Print
Pecan Butter Balls, Russian Tea Cakes or Mexican Wedding Cookies?
Prep Time 40 min
Cook Time 20 min
Total Time 1 hr
A nutty and not overly sweet cookie that is traditional over the holidays.
Ingredients
1 C butter
4 Tbsp. sugar
1 Tbsp. pure vanilla extract
2 C flour
1/4 tsp. salt
2 cups pecans, toasted for 5-7 minutes in 350 degree oven (just until you can start to smell the nuts from the heat), cool
Confectioner's sugar
Directions
Finely chop pecans. I use my food processor but if you don't have one and are doing by hand, they do need to be finely chopped.
Cream butter and sugar. Add vanilla and mix til thoroughly combined.
Add flour and salt and mix thoroughly.
Add nuts incorporate into dough; using a paddle attachment or your hands.
Refrigerate 30 minutes (I'll make the night before too, refrigerate and then let sit at room temperature for 30 minutes before continuing)
Roll into 1-inch balls and place one inch apart on a cookie sheet. Bake for 15-20 minutes at 375 degrees until set but not brown. Remove from oven and let set for 1 minute.
Roll in confectioner's sugar.
Roll again if desired when cool.
For a change, we will sometimes roll them in a combination of confectioner's sugar and pastel colored granulated sugar; it makes for a very winter wonderland sort of look with blue, pink and purple sugars.