When I was a young teenager, I would travel by bus on Saturday to have lunch with my mother who managed a designer boutique inside a department store called Stix, Baer & Fuller in St. Louis, Missouri. When I think of that time and how adventurous I was…always quick to catch a bus or ride my bike for miles and miles I sort of surprise myself in retrospect. Maybe it was the result of five kids or maybe a gentler time but no one ever worried or questioned the wisdom of my doing so and I loved the feeling of independence it gave me.
It was standard practice then for major department stores to have fabulous restaurants included in their space and I looked forward to those trips. To be honest, my mother and I had a difficult relationship from a very young age. Being the oldest daughter brought with it the role of being her helper and I imagine some of my craving for independence was to get away from being responsible for my younger brothers and sisters. I see others share personal stores on their blogs and I've avoided doing that…it's my love of cooking that brings me here but this particular post has me thinking of those times and even wondering…why were those trips so important when I seldom felt close to my mother? If I'm honest I'm sure it was a combination of things, maybe my attempt to connect with her without the burden of all of those siblings in the middle of our relationship but I think it is more than that.
Sadly, my mom started drinking when I was 10 years old, in 5th grade. Even sadder, she brought no fun or frivolity to her actions; it seemed to make her angry and yes, even mean and I won't go into details here, probably ever, but my siblings and I grew up in what I've occasionally labeled, 'The Original Dysfunctional Family.' Experiences no kid should have to deal with which ultimately led to her early death at the age of 48. In retrospect I wonder if my trips on that bus, a 1 hour travel from a suburb of St. Louis to a downtown department store, were more to have a moment with her without the alcohol and the ensuing scenes it always brought to bear on our household. Where she could be my Mom and I could for one moment be treated like the girl I was, not the woman everyone expected me to be. Where for one brief moment, we could have lunch in a beautiful place and I was the center of her attention and where I could see her as the creative, intelligent woman we all knew her to be but which too often got lost in a haze of bourbon and Pall Mall cigarettes. My mother actually initiated the trend of 'Designer' boutiques during her tenure as the manager of woman's fashion and it was good for me to see how respected and talented she was in that environment.
So…I looked anxiously forward to those monthly Saturday visits but it's funny, I honestly can not recall a sandwich or salad or soup that I ever had during those lunches but have never forgotten what I ALWAYS had for dessert. Which is why I thought this would be the perfect post for the International Incident Party…a group affair where bloggers post their version of the topic of interest for that month. This month the topic is sundae and since this sundae has been literally a lifelong obsession I decided I had to participate and share the Gold Brick Love!
Dessert for me was always their trademark Gold Brick Sundae or for a real treat a Gold Brick Banana Split; vanilla ice cream served with bananas and topped with Gold Brick Topping; a rich milk chocolate sauce with pecans that when served over ice cream sees the topping harden to a rich chocolate coating with nuts in the topping. Both the sundae and the banana split were then topped with whipped cream and a maraschino cherry. Gold Brick used to be available in some grocery stores but now it's limited to a couple of southern states and available online where it's pricey to have it shipped so I've used this homemade version for years. This sundae is not about the ice cream; it's all about this fabulous topping. I do prefer Breyer's Vanilla Bean ice cream but that's your call…make your own or buy some; just make sure it's worthy of the sauce!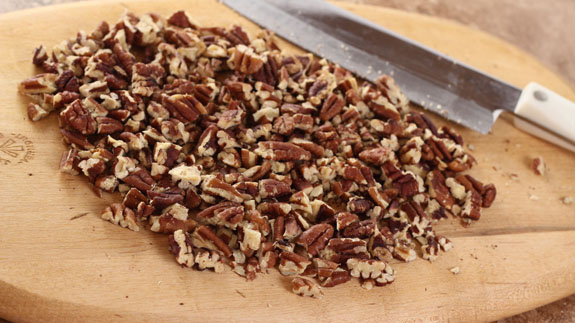 I think one important note is that when chopping the nuts, make sure you do not chop them too finely. I used to use my Cuisinart to chop nuts for dishes but no more. Too much of the nuts become, for lack of a better word, nut dust! I like larger, meaty chunks so recommend you get out your cutting board and a chef's knife and make quick work of them without resorting to a machine; the results will be worth it!
Print
Homemade Version of Elmer's Gold Brick Sundae
Prep Time 5 min
Cook Time 5 min
Total Time 10 mins
Ingredients
1/2 cup butter
2 cups chocolate chips
1/3 cup evaporated milk
1 cup chopped pecans
Bananas
Strawberries
Whipped cream
Maraschino Cherries
Directions
Combine butter, chocolate chips and evaporated milk in the top of a double boiler over simmering water.
Cook and stir until melted and smooth.
Remove from heat and fold in nuts.
Scoop ice cream into bowl with split bananas; add strawberries.
Dollop chocolate sauce over ice cream and top with whipped cream and cherries.