I've done some posts in the past couple of months with produce from Door to Door Organics. I love the premise of this company. In lieu of having a CSA near me, I can get produce delivered instead. Yes Please. They asked if I would like to offer one of their Bitty Boxes to a local reader and I was thrilled at that opportunity. I live in the south metro area of Denver, Colorado and read with envy about people getting fresh produce from their CSA each week. I would have to travel quite a distance to join a CSA so for me, this is perfect. They get the best of local, seasonal and organic produce and deliver it to your front door. How great is that?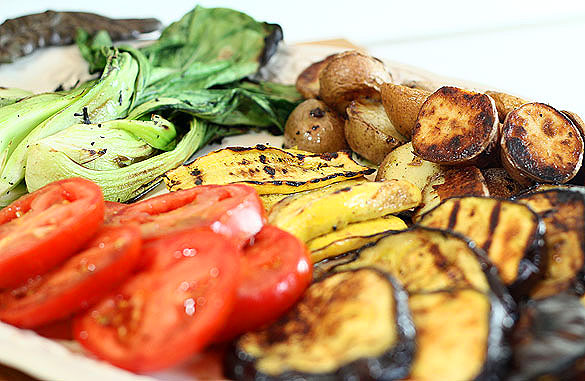 I'll be providing them with some recipes for the Kitchen section of their website too so be sure to check them out for some great recipes. The Bitty Local Farm Box I received last week contained the following summer bounty:
1 local Eggplant
2 local Yellow Squash
1 local Bok Choy
3 local Tomatoes
1/4 lb local Garlic
2 lbs local baby potatoes
1 local Leaf Lettuce
I made a roasted garlic dressing that I applied to all of the vegetables I used before grilling them. So good, so easy and so simple to clean up. The grilling results in vegetables with a terrific smokey flavor to boot!
This is one of my very favorites dressings. I first made it for a warm salad with croutons which I'll do as soon as there is a nip in the air but in the meantime…it works with so many things and I knew it would be wonderful to  use for grilling these vegetables. I didn't have enough tomatoes it seems…but a warming of some homemade sauce that was in the fridge was a great accompaniment to the eggplant!
Print
Grilled Vegetables with Roasted Garlic Dressing – Door to Door Organics Giveaway in #Denver
Prep Time 15 min
Cook Time 60 min
Total Time 1 hr 15 mins
Ingredients
1 large head or 2 small heads garlic
2 tablespoons plus 3/4 cup olive oil
1/4 cup finely chopped shallots
4 tablespoons balsamic vinegar
2 tablespoons chopped fresh thyme
Salt and freshly ground pepper to taste
1 eggplant, sliced 1/2" thick
2 yellow squash, sliced horizontally
1 head of bok choy, cut into 4 pieces
1 lb baby potatoes, cut in half
3-4 fresh tomatoes, sliced
Directions
To Make the Dressing:
Preheat oven to 350 degrees.
Remove any loose papery skin but do not separate cloves.
Place the garlic on a piece of foil or in a small baking dish.
Drizzle with 2 tablespoons oil. Cover dish tightly with foil; bake until garlic is tender, about 50 minutes. Cool.
Squeeze roasted garlic from skins into medium bowl. Mash with fork.
Add 3/4 cup oil, shallots, 3 tablespoons vinegar, and thyme.
Whisk to blend well. Season with salt and pepper.
To Prepare the Dish:
Preheat grill to high.
Slice eggplant and squash into uniform thicknesses and brush each side with some of the dressing.
Cut the bok choy into 4 equal pieces, brush some of the dressing on each side.
Cut potatoes in half, put into grill pan, drizzle with a bit of dressing to cover.
Put potatoes on grill at medium heat, turning if necessary, for 10-15 minutes depending on size before starting other vegetables.
Place slices of zucchini, eggplant and bok choy directly on the grill. Watch carefully. Some of the Bok choy leaves will turn brown and crisp up; I simply rub them once they come off the grill to remove any burnt leaves.
Arrange the vegetables on a serving platter. Add the sliced fresh tomatoes to the platter. Drizzle vegetables with additional dressing. There will be additional dressing...great when used as a salad dressing for greens too!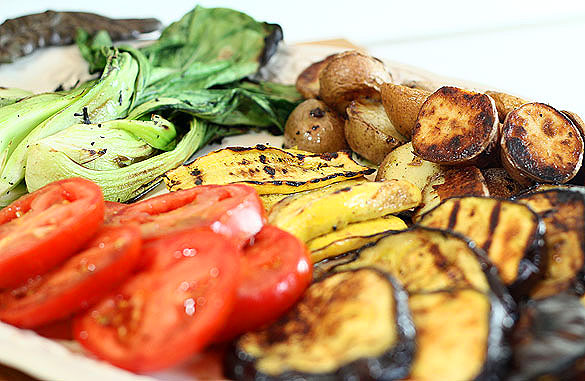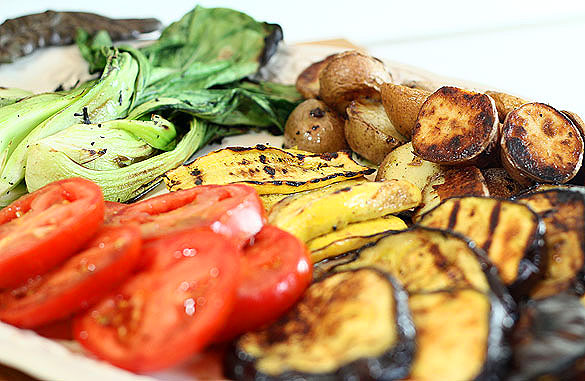 Contest Rules
There are two ways you can enter to win:
Leave a comment with your zip code (we have to verify delivery capability for the winner) and let me know if you think it's important to support local producers and/or why.
Tweet about this giveaway then leave a comment here telling me that you did:
Giveaway for #Denver and the Front Range: Door to Door Organics Bitty Box – http://bit.ly/qi6oJ0
NOTES:
This opportunity is ONLY open to those who live within their Colorado delivery area. Check here.
You MUST enter a comment for each of the above choices to be eligible for multiple entries. Leaving one comment with both requirements will only give you 1 entry. The winner will be selected randomly from those eligible for delivery.
I'll pick a winner from the comments posted on Friday evening, September 2nd at 5pm, Mountain time and post the winner on Saturday. Good luck!
Everyone is a Winner!  Door to Door Organics will give any of my readers in their delivery area (see NOTES, Number 1) a 40% discount off of their first Bitty Box. Simply input creative-culinary when placing your order.